About Us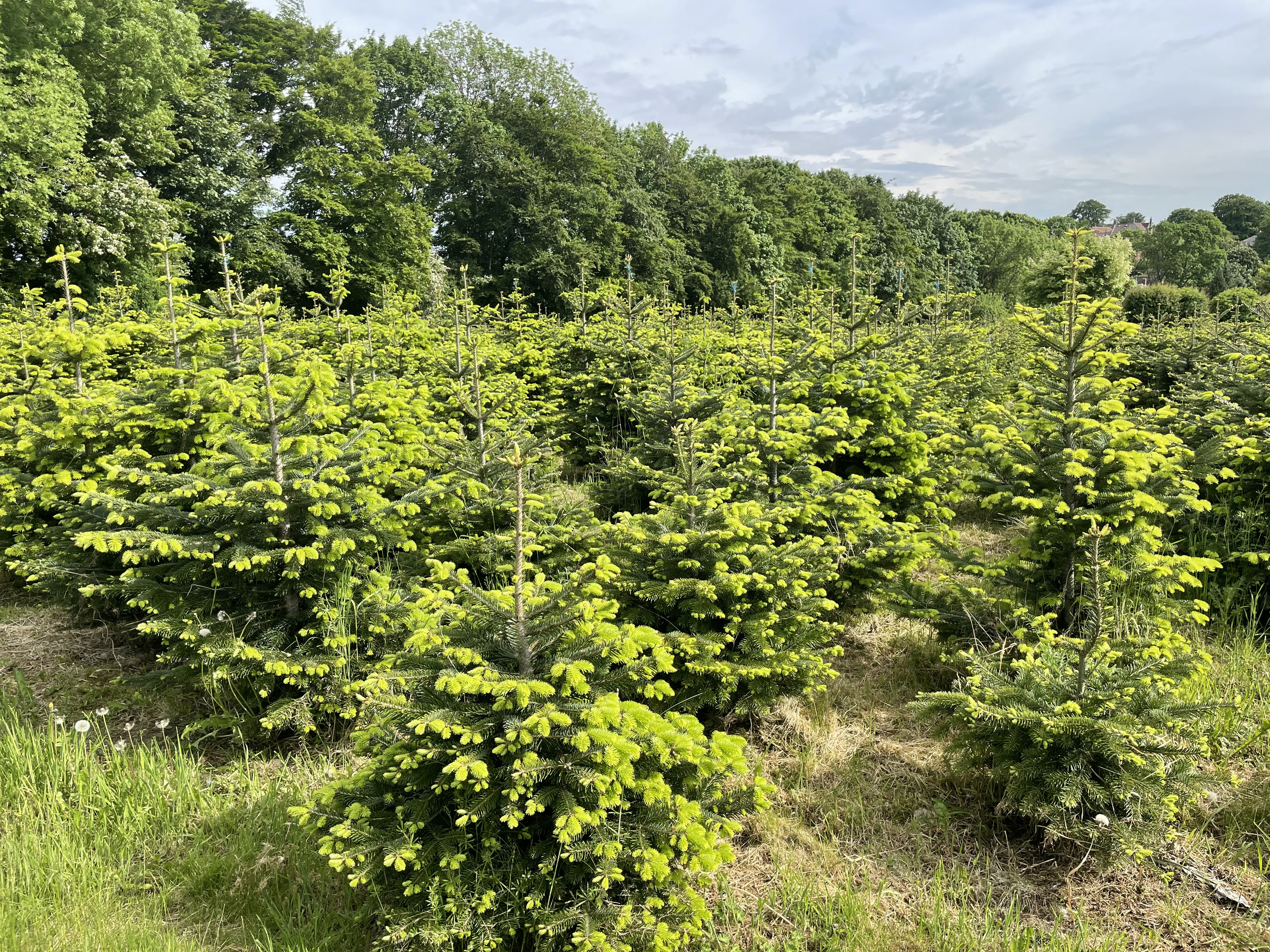 Located in the heart of the picturesque village of Bramham, we are a small family-run business growing and selling 'Nordmann Fir' in our burgeoning nursery. These are the very best of Christmas Trees as they do not drop!
Our trees are environmentally friendly, and we do not use any insecticides to ensure we protect our local natural surrounding habitat.
We have a continuous replanting programme; our tree netting is oxo-biodegradable and all trees dropped back off to us are recycled into bark chips.
Our family elves, Harry and James will be delighted to deliver your trees this year, in readiness for your magical Bramham Christmas Tree experience.
Frequently Asked Questions – Trees
1. What size trees do you sell?
We have trees available to sell from 4ft up to 9ft in height. For taller trees please enquire by email. All of our trees are Nordman Fir.
2. Do Bramham Christmas Trees sell Wholesale Christmas Trees?
Yes we do – please contact us by email for more information
3. When do you sell Christmas Trees?
Please check our website for dates.
4. How wide will the Girth of my Christmas Tree be at the widest point?
Christmas Trees are a natural product and all trees will grow in different ways. As a general rule, we estimate that the girth of a Christmas Tree will be between about a 1/3 to 1/2 of the height e.g. a 9ft Christmas Tree will have a girth of between 3ft and 4.5ft at its widest point.
5. When should I purchase my Christmas Tree?
We would recommend ordering your tree as soon as possible - this is certainly the case for large trees of 15ft in height and above as we need to plan these into our delivery schedules.
6. When should I take delivery of my Christmas Tree?
The answer to this question depends on whether the tree is being used indoors or outdoors. If the tree is to be used outdoors, you can take delivery in November and the trees will be fine until after Christmas.
If the trees are to be used indoors, we would suggest that our Nordman Fir (low needle drop trees) will last around 3 weeks. It is important that they are kept away from heat sources and kept well watered at all times in order to maximise their life expectancy.
7. Where should I keep my Christmas Tree indoors?
Christmas Trees should be kept in a cool place and away from any heat source such as radiators and fires. Trees should also be kept well watered. Did you know that an average Christmas Tree can use as much as 3.79 litres of water per day!
8. Should I trim the base of my Christmas Tree?
After a Christmas Tree is cut down, it will naturally form a layer of sap to seal the cut surface preventing water absorption. If you remove approximately 1/2 inch from the base, this will assist your Christmas Tree in lasting longer.
9. I have just opened my Christmas Tree and the needles are brown at the bottom of the tree and there are loose needles. Is this normal?
This is normal. When a Christmas Tree is wrapped up by us, you will be looking at the underneath of the needles. These needles have never received any sunlight which is why they are brown. Once you unwrap your Christmas Tree you will see that the needles are actually green. All of our Christmas Trees growing in our field look exactly the same as this.
Occasionally when you unwrap your Christmas Tree, you will find loose needles - again this is normal as Christmas Trees regularly lose their needles all year round.
If you do find that your Christmas Tree is dropping needles excessively in the first few days of receipt it could indicate that it is too dry and will need to be watered and moved away from any heat source.
10. How are your Christmas Trees Measured?
Our Christmas Trees are measured from the base of the tree to the very top.